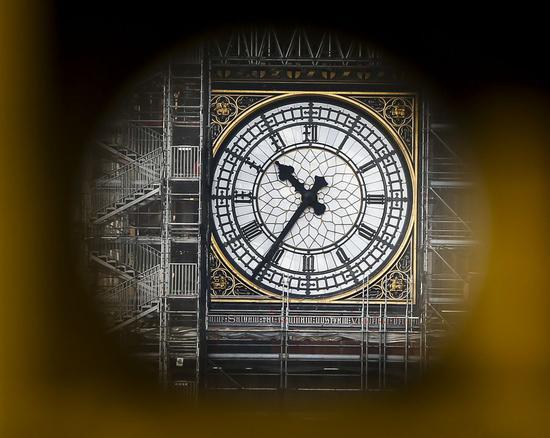 Photo taken on Jan. 29, 2019 shows the Elizabeth Tower, also known as the Big Ben, ahead of the Brexit deal amendments votes in the House of Commons in London, Britain. [Photo/Han Yan (Xinhua)]
The bill for renovating Big Ben, Britain's most famous clock tower, has leaped by a third after the discovery of extensive damage caused during World War II, local media reported Thursday.
The House of Commons (lower house of parliament) Commission said Thursday it was "extremely disappointed" that the cost of repairing the Elizabeth Tower housing the Big Ben bell will have to rise from 61.1 million pounds (about 79.8 million U.S. dollars) to 79.7 million pounds (about 104.2 million dollars).
A statement from the House of Commons Commission said: "It is very frustrating to learn that the Elizabeth Tower project requires yet more funding."
The need for another 18.6 million pounds (24.3 million dollars) was only realized following the discovery of a bomb damage during World War II, among other problems. The new budget will have to be approved by the accounting officers of the Houses of Parliament.
Ian Ailles, director general of the House of Commons, said the Elizabeth Tower restoration -- which began in 2017 and is scheduled to continue until next year -- "had been more complex than we could have anticipated."
It had not been possible to understand the "full extent of the damage" until scaffolding had gone up and a survey was carried out, said Ailles.
Examination of the 177-year-old tower has uncovered decay and damage to hundreds of intricate carvings, asbestos in the belfry, extensive use of toxic lead paint, broken glass in the clock dials and the need for a clock specialist.
Big Ben was silenced in 2017 to protect the health and safety of workers involved in what was initially estimated to be a 41-million-dollar refurbishment of the Elizabeth Tower.
Last month, a campaign to enable Big Ben to chime on the Brexit day failed due to high cost.
Email: lansuying@nbd.com.cn
Editor: Lan Suying